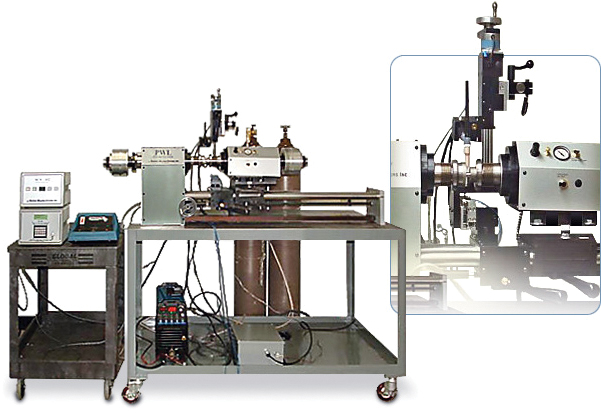 The welding lathe system includes a Process Welding Systems' SCS-102 Solid State Speed Control and a DT-100 Weld Controller. The lathe has 22″ between centers. Standard 6″ 3 jaw chucks or 5C collets can be used with the headstock and tailstock.
The 5C headstock collet closer is activated by an open/close foot switch and the tailstock open and close is activated by a hand switch. The head stock and tailstock has separate regulators with gauges and speed controls.
Welding equipment is a Miller Maxstar 200LX with the PWS DT-100 Weld Controller. The TIG torch uses an electro gauge to accurately set the tungsten stand off distance before welding. Motions and actions are controlled by a PLC. The system included all wiring, hoses, cables, regulators and manuals with setup and training.
Contact PWS for custom designed lathes and welding systems or call us at 615.793.7020.