WELDING EQUIPMENT DEMONSTRATIONS: A potential customer can visit PWS and acquire hands-on use of the available equipment in our weld lab. At that time we can discuss applications, tooling and weld parts for evaluation. Usually there is not a charge for a customer to visit. With equipment demonstration the customer can find out the pros and cons of his particular welding application.
FREE OR LOW COST WELD DEVELOPMENT: Weld development is usually a free service as long as the application can easily be set up with our existing equipment, fixture and tooling. For more elaborate weld tests that would take more than a day or would require special tooling we would quote a minimum fee to run a process welding program. The program would include setting up equipment, building tooling and weld reports.
WELD TRAINING: We can train your welding staff with use of the welding processes, equipment care, preventive maintenance, safety procedures, electrical trouble shooting and weld development.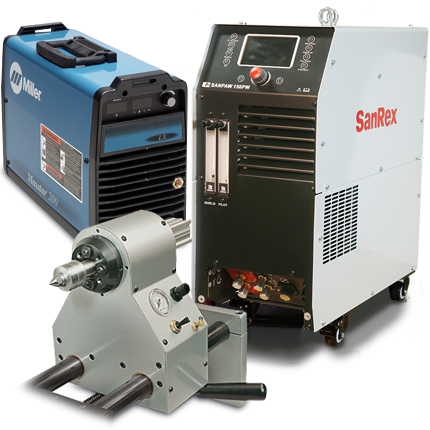 EQUIPMENT AVAILABLE IN OUR WELD LAB: 160 watt Nd: YAG laser. Mobile unit with X/Y/Z and R axis of travel with THK precision slides, teach function CNC control for straight line and circular welds.
Our official replacement to the Ultima 150 is the SanPAW 150PW plasma power supply with DT-100 programmable weld controller. An assortment of plasma torches that can weld from 0.1 amps to 50 amps, 1.0 amps to 150 amps and 10.0 amps to 300 amps.
Maxstar 200LX TIG power supply with DT-100 programmable weld controller with an assortment of TIG torches and accessories.
PWL 12-16 Welding Lathe, RWP-100 Rotary Positioner and TS-100 Torch Stand. The lathe and positioner are controlled with the SCS-102 Solid State Speed Control. Both pieces of equipment can be interfaced and used the DT-100 Weld Controller which can be used to program and control rotation speed of the lathe and positioner.
Tube and wire welding system for semi-automated welding of small medical wires and tubes. Manual load/unload with an SanPAW 150PW/DT-100 welding system and PLC for control of the sequencing.
Wire feeder and AVC (arc voltage control), small longitudinal welding fixture for seam welding, numerous copper chill clamps and fixtures, 3 jaw chucks, 5C collets, collet stops and other work holding tooling.
Two stereo microscopes and one digital microscope with photo capability.
Plasma powder feeder and powder feed torches.
Contact us about welding equipment demos, weld development, weld training or equipment available in our weld lab or call us at 615.793.7020.
Next – Automation System