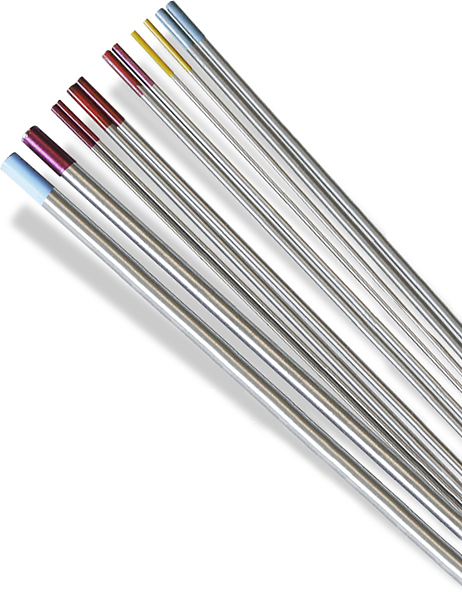 There is not anyway to tell a welder which tungsten is best for his application. Welders use different power supplies with different types of arc starters. Each welding application uses different gases and electrode tip configurations. Also, the material being welded will vary.
Other factors such as weld speed, pulsing, number of arc starts and how the tungsten is sharpened will affect tungsten life. It is recommended that you test the tungsten before putting it into production.
Tungsten Electrode – Typical Current Ranges Table:
Tungsten electrodes are classified on the basis of their chemical compositions:
E stands for electrode, which is used for one terminal of the arc welding circuit
W stands for the chemical symbol of tungsten
The final letters indicate the alloying element (oxide additions):
P designates a pure tungsten electrode without alloying elements
Zr is for zirconiated
Th is for thoriated
Ce is for ceriated
La is for lanthanated
The numbers specify the nominal alloying composition (in weight-percent).
Thus, EWTh-2 is a thoriated tungsten electrode containing nominally 2 weight-percent thoria.
Ask PWS for a Free Sample Tungsten Electrode to Conduct Your Own Test!
All tungsten electrodes packaged in boxes of 10 pieces in 7″ lengths.
For special diameters & lengths contact sales: 615.793.7020 for price and delivery.
Approximate Current Ranges for Tungsten Electrodes for GTAW:
Straight
Reverse

Electrode
Diameter
(inches)

Polarity Direct
Current Amps

Polarity Direct
Current Amps

Unbalanced
Wave AC

Unbalanced
Wave AC

Balanced
Wave AC

Balanced
Wave AC

EWP

EWP

EWP

EWCe-2

EWP

EWCe-1

EWCe-2

EWCe-2

EWLa-1

EWLa-1

EWLa-1

EWLa-1

EWTh-1

EWTh-1

EWTh-1

EWTh-1

EWTh-2

EWTh-2

EWTh-2

EWTh-2

EWZr-1

EWZr-1

0.010

Up to 15

N/A

Up to 15

Up to 15

Up to 15

Up to 15

0.020

5-20

N/A

5-15

5-20

10-20

5-20

0.040

15-80

N/A

10-60

15-80

20-30

20-60

0.060

70-150

10-20

50-100

70-150

30-80

60-120

0.093

150-250

15-30

100-160

140-235

60-130

100-180

0.125

250-400

25-40

150-210

225-325

100-180

160-250

0.156

400-500

40-55

200-275

300-400

160-240

200-320

0.187

500-750

55-80

250-350

400-500

190-300

290-390

0.250

750-1000

80-125

325-450

500-630

250-400

340-325