Three Plasma Torch Welding System With Automated System Control.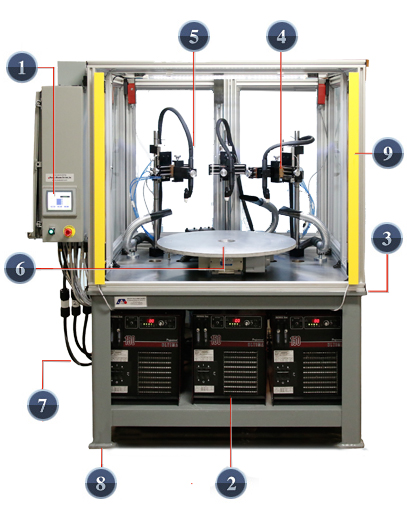 AUTOMATED EQUIPMENT:
1. Touch screen weld control panel
2. Three Ultima 150 plasma power supplies
3. Blanchard ground Table Base
4. Three Torch stands and X & Y positioners with Pneumatics
5. Three independent Torch stands
6. Precision Indexing Product Stand
7. Common Power Supply for Welders
8. Welded Frame
9. Safety Light Curtain
BENEFITS:
Improved Weld Quality: mechanized welding improves repeatability.
Increase Production: automating the weld process speeds up the production rate.
Decreased Scrap: automating the manufacturing process decreases error potential.
Consistency: an automatically produced machine-weld offers more consistency than less controlled methods.
Automated Welding System – Video