Featuring Our DT-400 Arc Welding Control/Programmer for Plasma & TIG Welding
The future of welding and manufacturing efficiency lies in automation and a shift towers greater process control! Too many features and benefits to mention here! Check It Out.
Specially designed for welding a wide range of circumferential parts or components for use in both plasma and TIG welding applications. This lathe can be used in a standard production environment as well as laboratory settings, which require a versatile welding tool.
STANDARD FEATURES:


 Alignment adjustments on head & tail stock


 Use in horizontal or vertical welding positions


 Pneumatic tail stock & torch retract


 SCS-102 Solid State Speed Control with Closed Loop Speed Regulation (Custom speeds available on request)


 Torch positioners for versatile torch movement


 Three-jaw 6″ scroll chuck allows concentricity adjustment–Chuck includes two-piece hardened reversible jaws (special jaws on request)


 Handles lock torch carriage & tail stock in place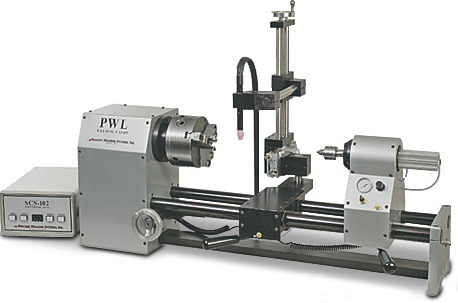 See More