WHAT IS KEYHOLE FUSION WELDING AND HOW CAN IT HELP YOU?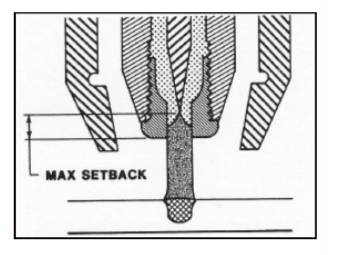 THIS TYPE OF WELD IS GENERALLY OBTAINED BY USING A STIFF. CONSTRICTED ARC. IN THE KEYHOLE MODE PENETRATION IS OBTAINED BY THE COMBINATION OF PLASMA AND GAS MOMENTUM WITH THERMAL CONDUCTION. WITH INCREASE PLASMA GAS FLOW RATED AND PLASMA SETBACK, A HOLE KNOWN AS THE KEYHOLE IS PIERCED THROUGH THE ENTIRE METAL THICKNESS AT THE LEADING EDGE OF THE WELD PUDDLE, WHERE THE FORCES OF THE PLASMA JET (COLUMN) DISPLACE TH E MOLTEN METAL. AS THE TORCH TRAVEL PROGRESSES AT A CONSISTENT SPEED, THE MOLTEN METAL, SUPPORTED BY THE SURFACE TENSION FLOWS BEHIND THE KEYHOLE TO FORM THE WELD BEAD.
KEYHOLE WELDING IS ALMOST EXCLUSIVELY PERFORMED IN THE AUTOMATED MODE. TYPICALLY THIS TECHNIQUE IS USED FOR SQUARE BUTT WELDS ON MATERIAL THICKNESS FROM 0.093"(2.4 MM) TO 0.250" (6.4 MM) REQU IRING 100% PENETRATION IN A SINGLE PASS. MANUAL KEYHOLE WEL DING IS NOT RECOMMENDED BECAUSE OF DIFFICULTIES IN MAINTAINING CONSISTENT TRAVEL SPEEDS, TORCH POSITION, OR FILLER MATERIAL ADDITION.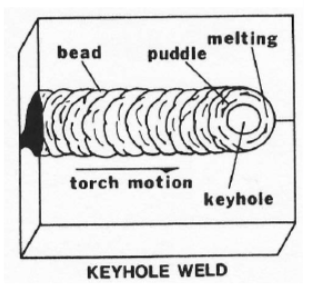 1) REDUCED CURRENT LEVE LS
3) MINIMIZED WELD PREPA RATION
5) VISUAL PROOF OF 100% PENETRATION
6) LESS FILLER MATERIAL REQUIRED
___________________________________
DISADVANTAGES:
(1) LIMITED TO FLAT, HORIZONTAL, AND VERTICAL UP POSIT IONS
2) MORE SENSITIVE TO VARIABLE CHANGES
3) LIMITED TO AUTOMA TED OPERATIONS