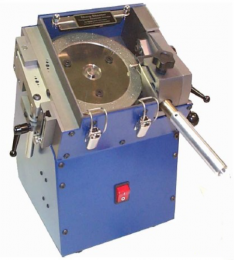 Features Not Available Elsewhere:
Fully enclosed grinding area with electrodes cut-off option also enclosed
Excellent electrode grind concentricity
Accurate tip diameter control via unique twi-stop electrode wand
Rapid setup and grinding
Vacuum options available with 1-micron or 0.3-micron HEPA filter
Safe – Precise – Easy
5 Year Warranty
Feature Details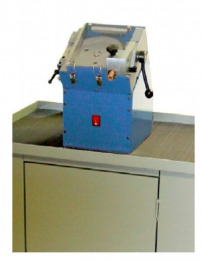 Smart design streamlines electrodes preparation
Enclosed work area captures dust and protects operator
Easy operation with electrode wand. No tools required
No loose electrode guides that produce bad concentricity
Optional Vacuum system with work cabinet
Longitudinal diamond grinding — 10˚ to 60˚
Tip flat diameter measurement scale.
Works with .040˚ – 3/16˚ (1.0nn-4.8mm) diameters
Repeatedly prepares the same tungsten geometry.
Rugged unit is ideal for continuous production.
Advantages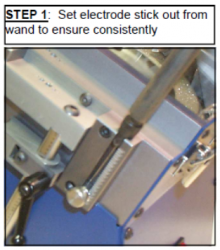 Most Precise
A universal electrode wand holds the electrode securely and at the closest possible proximity to the grinding contact point. This produces concentric grinding not available on other grinders that use electrode guides/bushings with loose fit-up and get even looser after use. The Sharp Shooter™ as no problems with odd sized electrode diameters. Every electrode size is gripped tightly to ensure precision grinding.
Safest
The grinding and cutting areas are enclosed and provide a Plexiglas window for viewing. This keeps potentially harmful dust away from the lungs, sparks away from the eyes and fingers free from injury. Safety officers are especially pleased with the design of this equipment.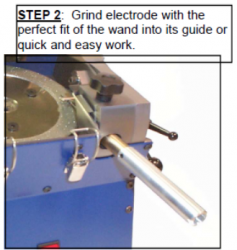 Easiest to Use
Designed so that anyone can easily grind, flat and cut tungsten electrodes with repeatable accuracy. There are no complicated adjustments, special tools requirements, or difficult time consuming setups. The wand allows for one-touch grinding, flatting and cutting.
Rugged Tool
This is not a bench grinder with tooling attached as an after thought. It is a purpose built, dedicated machine tool for accurately preparing tungsten electrodes.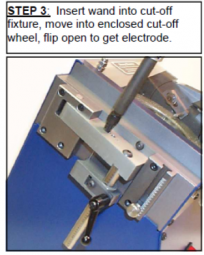 Optional Vacuum System
Steel work cabinet with quiet, integrated 1 micron vacuum filtration system (HEPA 0.3 micron filter also available). One switch turns on/off the grinder and vacuum. After switching the system off, there are three seconds of additional power provides to the vacuum to clean the system.
Technical Specifications (for stand-alone unit)
Output Current:

Grinder Motor:
Weight:
Dimensions:
6.8 Full Load Amps at 115V, 3.4 at 230V With Automatic Overload Protection
½ Horsepower (UL Listed/CSA listed)
40 lbs. (18.2 kg)
13"(33cm) H x 12.5"(31.75cm) W x 13"(33cm) D .040" to 3/16" (1.0mm to 4.8mm)
PLEASE CALL for more details on the Vacuum and Work Cabinet. 615-793-7020