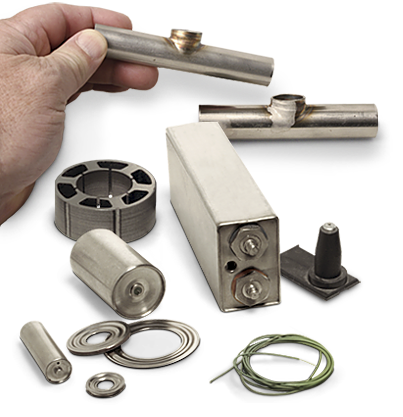 We are always interested in our customer's welding product needs. To maintain it's growth pattern PWS has developed a variety of products and many of the products we offer are of a "value added" nature. PWS is able to assist customers in improving their production processes through equipment to enhance or improve welding quality.
These activities serve to broaden the product and services offering and make the company less dependent on outside sources for development. The acceptance of new equipment has been researched and appears to be welcomed consideration to the current customer base. Continual product development will ensure balanced growth and recognition as a source of expertise in welding equipment and processes.
---
SERVICES INCLUDE:


Design services for precision welding systems (manual load/unload or semi-automatic)


Integration of welding system accessories & site installation assistance


Experienced staff for custom design & manufacture of tooling, fixtures & specialty torch nozzles


Free weld application review & process recommendation
TECHNICAL SUPPORT:


Troubleshooting, maintenance & repair of equipment


Weld training – skills development


Weld development – material evaluation, joint design, weld parameter development


Comprehensive consumable inventory stock of replacement parts for plasma power supplies, accessories & plasma welding torches
CUSTOM PRODUCTS AND ACCESSORIES:


Special gas shields – MIG, TIG & Plasma


Torch slides – X, Y, Z
---
TIG Welding – Beginners Guide
TIG welding is probably he most complicated type of welding there is, and for a beginner the shear number of variable can be a bit confusing. Below is a break down on all the different areas with some "numbers" to help you get started.
TIG Welding – Beginners Guide – Gas
Now you may think talking about gas before the welder is odd, but bear in mind that if you are on a budget then the gas is going to represent a significant outlay.
Unlike MIG welding TIG welding can only use pure argon (or other specialist gases), so using food grade CO2 for example is not possible.
TIG Welding – Beginners Guide – Welders
Make sure that the welder actually comes with a proper TIG torch, as some Arc Welders can be used for TIG welding but do not come supplied with a TIG torch as pictured below.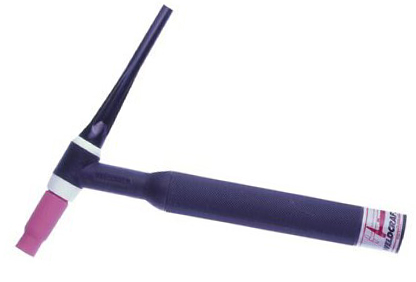 A TIG Torch
TIG Welding – Beginners Guide – The Tungsten
The tungsten is the electrode that sticks out of the front of the torch. Confusingly there are various different types, that are better suited to different applications. Your welder may come supplied (as mine did) with an unsuitable tungsten electrode. Most people suggest a 2% thoriated tungsten, but this is radioactive, so perhaps go for a 1-2% lanthanated electrode which I believe performs similarly.
You should sharpen your tungsten before first use.
OK so hopefully that covers the gear now a little on technique.
TIG Welding – Beginners Guide – Holding the Tig Torch
To avoid damaging the electrode, you will need to hold it around 2 – 3mm from the working surface. With a welding mask on this is no mean feat, and will take a great deal of practice to get the hang of. The torch should be held in a way that is very comfortable;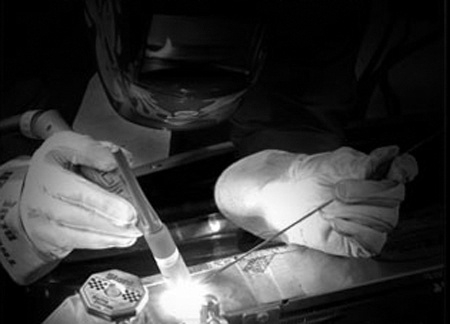 Index Finger on Top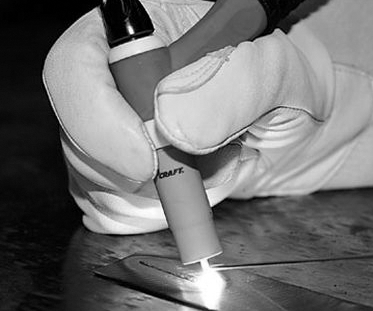 Or like a pencil
Gloves should be used or you will get sun burn from the UV radiation emitted from the arc. If you are working on a large item, it may heat up meaning you will need something heat proof to rest your hand on.
The torch should be held with the electrode as upright as possible, whilst still allowing you to see what you are doing.
TIG Welding – Beginners Guide – Setting the Amperage
On the most basic of TIG welders there will be an amperage control, too little amperage and you will not melt the metal, too much and you make a hole.
It is recommended around 65 amps for 16 gauge
steel
(1.63mm). So a bit more for thicker stuff, and a bit less for thinner stuff, remember that the maximum amperage you can use will be limited by the diameter of the tungsten you are using. 1.6mm tungsten will go up to around 90 amps, if you intend to use more amps then get a thicker electrode.
The better the conductivity of the metal the higher your amperage will have to be, aluminum requires a higher amperage that steel for the same thickness.
TIG Welding – Beginners Guide -Gas Flow Rate
During welding set gas flow around 7 – 8 liters per minute.
---
PROCESS WELDING SYSTEMS AUTOMATED WELDING SYSTEMS TAKE YOU TO THE NEXT LEVEL:
Our automated system helps you increase welding quality, improve welding productivity, enhance the working environment and decrease manufacturing cost.
Special Purpose Machines (SPM) with simple timer and contractor control to complex designs using CNC controllers, servo motors, pneumatics, hydraulics as requirement.
Process Welding Systems' design, manufacture and sell complete weld automation stations for mass production with automated welding of various components , equipments, overlay metal build up, hard-facing and metal spray applications .
See our CUSTOM AUTOMATED LATHE